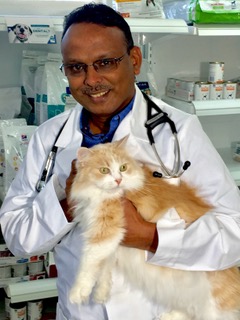 Madhu Mathews,
DVM, MVSc
Dr. Madhu Mathews developed an interest in veterinary medicine from a young age and considers himself fortunate to live his life as a veterinarian. After he received his Bachelor's degree in Veterinary Medicine from Kerala, India; he proceeded with his Master's and authored a thesis on Canine Dermatology. He has been a practitioner of veterinary medicine for the past 23 years, with expertise and experience in both regular as well as emergency medicine.
After volunteering in the Dermatology department of Ontario Veterinary College, he moved to the USA and finished his postgraduate training at Oklahoma State University in 2005 and started practising in Virginia/Maryland, followed by an emergency medicine career for more than 7 years. While at the Niagara Veterinary Emergency Clinic, for the last 3 years, Dr. Mathews was also working as relief veterinarian in a number of general practices in and around Hamilton, ON. This blend of experience in emergency and general practice makes it possible for him to handle stressful situations calmly and develop a strong client – doctor relationship.
Dr. Mathews is excited to be the owner and part of the 60 year legacy of the Ancaster Animal Hospital. His goal is to hold the torch of the legacy high by providing sincere superior quality service to all clients and patients by working with his clients to make sure his patients live the healthiest and longest lives possible.
He is married to Princy for the last twenty years and has two sons, Ashish and Ashwin. His pet family includes – Tiger, who really thinks is a TIGER and Montgomery who now rules the Ancaster Animal Hospital along with the senior hospital cat Toad. When not working with animals, Dr. Mathews enjoys oil painting, reading, travelling and movies.
Member of the Ontario Veterinary Medical Association
Member of the Veterinary Emergency and Critical Care Society
Life Member of the Indian Society for Veterinary Medicine
Owner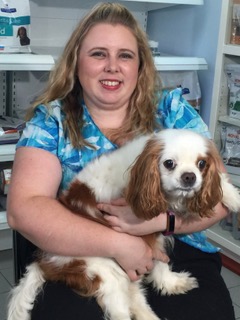 Jessica Leaker,
RVT Registered Veterinary Technician
Jessica graduated with a degree in Veterinary Technology from University of Guelph, Ridgetown Campus in 2007. Following graduation, she worked for a year in a clinical setting before transitioning to emergency medicine. After three and a half years in an emergency setting, Jessica decided to return to a regular practice in 2012. She worked with Dr. Mathews at the emergency practice and joined the team here at Ancaster in 2014. She enjoys horseback riding, quading and going on hikes with her husband. Jessica has a Belgian Cross named Thor, a King Charles Cavalier name Viktor and a cat name Darla.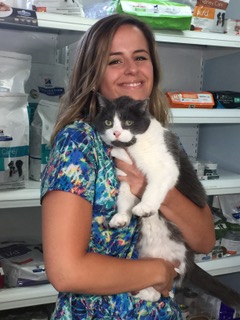 Markie Cianfrone,
Registered Technician
Markie graduated with distinction from University of Guelph's, Ridgetown College, Veterinary Technology program in 2017. That same year, she became a Registered Veterinary Technician. She began working at Ancaster Animal Hospital in 2016, while still in school, and worked at two other practices in the interim. She returned to Ancaster Animal Hospital this past year, where she looks forward to building her career. When she's not working at the hospital, you can find her and Foxy (a rescued Foxhound X) hiking and enjoying nature, or reading science fiction with a hot cup of tea!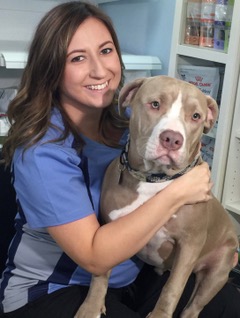 Denise Jones,
Practice Manager
Denise has been an animal lover form a very young age and has had a variety of pets growing up. Denise graduated with her diploma in Medical Office Administration and has been working with animals since 2015. Denise joined the Ancaster team as a veterinary assistant in 2016 and is currently also helping manage the Hospital. When she is not at the hospital Denise enjoys spending time with her husband and 3 dogs, a Great Dane"Lola", a Presa Canario "Bella", and an American bulldog mix "Bruno". She also shares a home with two sweet cats Banana and Gollum and a Red Tail Boa named General Grievous.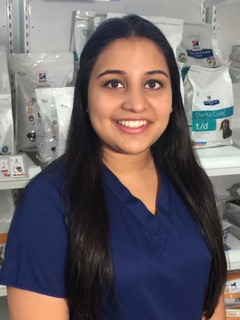 Aastha Spolia,
Veterinary Assistant
Aastha first started at Ancaster Animal Hospital in Grade 11 as a volunteer and has now officially joined our team as a veterinary assistant. Since she is currently in her second year of animal biology at University of Guelph she hopes to attend veterinary school in the future. In her spare time Aastha volunteers at the Hamilton/Burlington SPCA and enjoys travelling and cooking.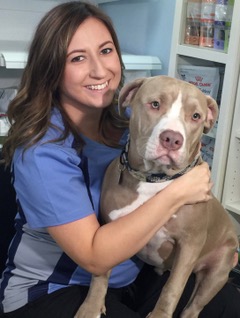 Jen,
Coming Soon
Coming Soon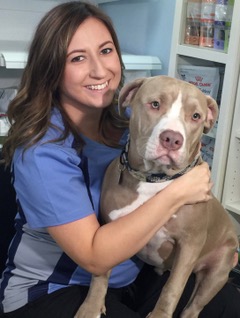 Kat,
Coming Soon
Coming Soon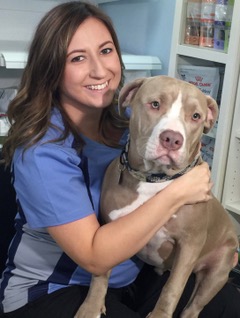 Maddison,
Coming Soon
Coming Soon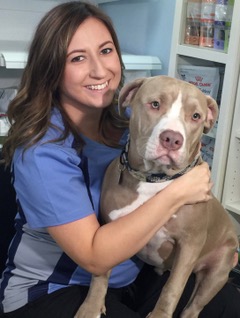 Olivia,
Coming Soon
Coming Soon